The eyes are very sensitive part of the human body. The life is nothing without eyes or less power of vision so the vision must be maintained to enjoy the life. Now time we see that almost new generation is suffering from vision issue. A less aged child is also wearing specs due to the low vision. But the technology has been improved a lot now there is no need of wearing specs. Now the Lasik eye surgery is great medium to remove the specs and offer the same vision which is necessary for common human.
Many successful operations have been done as per the research. The almost all operations have given the vision to patient those were facing the problem of vision and wearing the specs. The real look of the human suits without specs and Lasik surgery gives the vision which doesn't need to wear specs anymore.  But people always think a lot and got confusion about the procedure of the Lasik surgery then here are the explanation which will throw light about the surgery.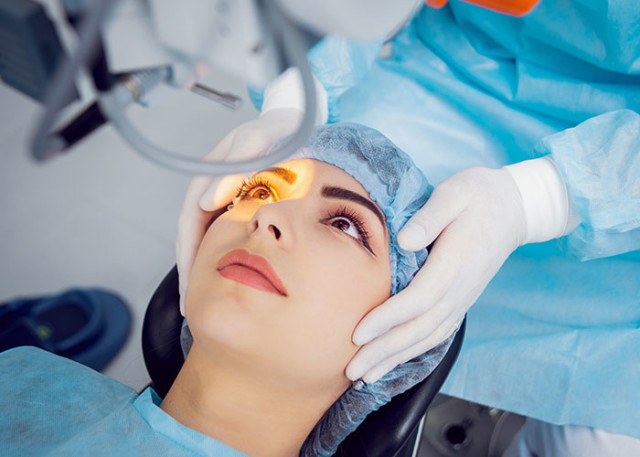 How Lasik Eye Surgery Works:
At the time surgery your doctor decides to use a mechanical surgical tool called as microkeratome or a femtosecond laser to generate a thin, circular "flap" in the cornea. The surgeon then crease backs the hinged flutter to access the fundamental cornea and confiscate some corneal tissue an excimer laser. Such highly demanding laser uses a chill ultraviolet beam to remove "ablate" from the cornea to reshape it thus this is more accurately focuses brightness on the retina for better vision. After doing the reshape the cornea the flap is laid back in place then it is covered where the corneal tissue was removed.
Benefits of the Lasik Eye Surgery:
The Lasik surgery has given great changes in the human life those are suffering from the eye's vision. There are lots of benefits provided by the surgery.
After the surgery the patient needs to wear black specs only for few days to make the habit of eyes to face the light slowly. After this precaution the patient will be free from the wearing specs. Many people do not want to wear the specs for full day but if your vision is not okay then you will have to wear the spec or should adopt Lasik surgery.
The patient can love the normal life as he was living before the operation. He can watch everything very clear. The best lasers run for long time and provide the impressive vision. Thus always prefer the high quality of laser for getting the benefits.